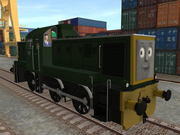 Knapford Container Yard
is a railway facility located near the
North West Railway
's main sheds at
Knapford
. It exists to handle
intermodal container
traffic going to destinations on Sodor, and from
Sodor
to
The Mainland
.
Bill and Ben
first worked here when the
The China Clay Workings
were shut down for a few months in 2009 after a tunnel collapsed. Shortly afterwards,
Iris
was brought in to run the yard permanently once the twins returned to the Clay Pits.
Layout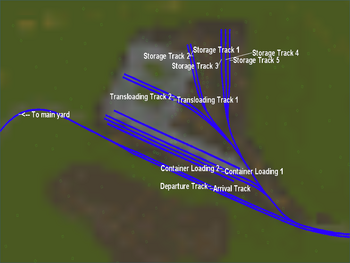 A two-track passing siding at the front of the yard acts as the arrival and departure track. Trucks are left here to be shunted into the trans loading warehouse, and trains of containers are shunted here for the mainline engines to pick up and take to the mainland.
Behind these are the two container loading tracks, where empty container flatcars are loaded with various shipping containers. These two tracks are in the open air, with a container crane straddling them.
Further back are the trans loading tracks. These run into a large warehouse, where goods arriving in conventional trucks (e.g. box vans) is put into containers to be sent to the mainland. Conventional trucks stay on the island due to the elimination of wagon load goods on the mainland in the 1970s.
Next to the warehouse are 5 storage tracks. Storage tracks 1 & 2 are in the open air, while storage tracks 3, 4 & 5 run into a small goods shed.
The 'return track', ('To the main yard' on the map), is a short, single-track connection to the main shunting yard. Due to tight corners, only short-wheelbase shunting engines like Diesel and Iris, as well as other smaller engines, are able to go along here. This line is used for bringing empty container flatcars to the container yard to be loaded, and for taking empty trucks to the yard once they've been trans loaded in the warehouse.
Gallery
Community content is available under
CC-BY-SA
unless otherwise noted.